2 Incredible Materials in 1
Organic Cotton + Luxorious Silk.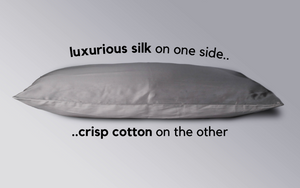 The perfect accompaniment to your Sleepbar. Now you've ditched the uncomfortable earphones, it's time to enhance this new found freedom.
2 in 1 Pillowcase
Get the best of both worlds with a pillowcase thats there for you in every season.
Naturaly Anti-Allergy
Synthetic pillows can harmor mold, fungus and mite. Silk and Cotton are naturally hypoallergenic, so you won't wake up with puffy eyes.
Perfect Temperature
Say goodbye to sweaty eyes on even the warmest summer nights, thanks to the thermo-regulating powers of silk.
Machine Washable
Wash Gently in a machine for maximum convenience.
Skin and Hair Friendly
Silk won't steal the moisture from your skin like other materials. This leaves your skin feeling healthier and looking younger.
Hidden Zipper
Tidier than the fold-over type, and hidden away so it won't trap your hair in the night.
★ ★ ★ ★ ★
"I've tried over 10 pillowcases - and this one is by far the best"
Megan Fallows


Hybliss is perfect if..
✔️ you sometimes find yourself overheating in bed
✔️ you want to protect your skin against wrinkles, and hair against frizz
✔️ you get allergies and need something hypoallergenic, anti-microbial and anti-fungal.
✔️ you love comfort
Your Questions, Our Answers